The Ministry of Natural Resources and Forestry takes a landscape approach to strategic conservation of ecosystems and species. Moving Biodiversity Conservation to a Landscape Approach outlines how organizations applying to the Land Stewardship and Habitat Restoration Program should adopt this approach in their proposed projects and application for funds.
More
___________________________________________________________________


CA purchases land near Old Baldy in Grey Highlands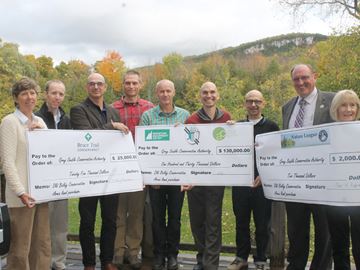 CA purchases land near Old Baldy in Grey Highlands
Chris Fell Photo
From left: Kelly Killoran, David Robinson, Randy Kielbasiewicz, Jon Gullett, Luke Myles, Tony Berlier, Gus Alexandropoulos, Grey Sauble Conservation Authority Vice Chair Dave Clarke and Clare Capon with Old Baldy in the background.
Meaford Express
Private land at the base of the famous local landmark - Old Baldy - will be purchased by the Grey Sauble Conservation Authority to be preserved for future generations.
The CA made the announcement at a special meeting at Kimberley Hall on Wednesday, Oct. 8.
The Old Baldy Conservation Area near Kimberley is a popular hiking, climbing and naturist area. It is named for a large rock formation at the top of the escarpment that is visible for miles around.
The Grey Sauble Conservation Authority joined up with the Mountain Equipment Coop, Alpine Club of Canada, Ontario Access Coalition, Ontario Climbing, Bruce Trail Conservancy and the Nature League to make the purchase of the property possible.
A deal is in place for the CA to purchase 45 acres at the bottom of Old Baldy and transfer that land into public ownership.
"Two years ago we found out this land was for sale," CA Lands Coordinator Chris Hachey said at the announcement. "It's an iconic view of this area. It's beautiful, features the Bruce Trail and it's popular with the climbing community. We knew we had to have some partnerships to be able to purchase the land."
Mountain Equipment Coop, the Alpine Club of Canada, Ontario Access Coalition and Ontario Climbing combined to raised $130,000 for the purchase. The Bruce Trail Conservancy raised $25,000. The Nature League added $2,000 to the total.
The land being purchased has immense natural heritage and recreation value. The Old Baldy Conservation Area features rugged tall cliffs and a sweeping landscape that is the signature of the Niagara Escarpment in Beaver Valley. The newly purchased land will be added to the 128 acres at Old Baldy that is already under public ownership.
Hachey said the CA plans create new trails on the property that will link Old Baldy directly to Kimberley.
"We're quite pleased the partners all came together to help the Conservation Authority secure this piece of property," said Grey Highlands councillor and CA vice chair Dave Clarke.
Randy Kielbasiewicz of the Ontario Access Coalition was thrilled with the partnership to raise the money to purchase the land.
"This is very meaningful to the Ontario climbing community. Old Baldy is a very special place for us - it has a long history of climbing," he said.