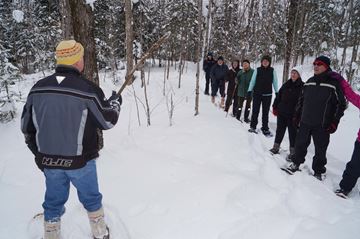 Class is in session
Huntsville
Forester
LAKE OF BAYS - The snow is thick across Muskoka and that makes it perfect weather for a snowshoe.
The first of six guided snowshoe adventures was held Jan. 17 and hosted by the Township of Algonquin Highlands. The different trips each have a unique focus and cover topics including surviving winter, the ecology of winter and the history of forestry.
Craig Mcdonald, a former recreation specialist at Algonquin Park, led the first class of about 15 people through the history of snowshoeing.
"The emphasis was on getting a better appreciation for the Aboriginal heritage of snowshoeing in North America. It gives people perspective of how finely developed it is. There are so many different types of snowshoes for different conditions and different terrain conditions. This is something that's evolved over thousands of years," said Mcdonald.
"There are so many different types of snowshoes for different conditions."
- Craig Mcdonald
The adventure started at the Oxtongue Lake Community Centre before participants embarked on a guided snowshoe trek of a nearby property. McDonald has spent years working around Ontario and shared his in depth experience on things like traversing the wilderness and why snowshoes are designed the way they are.
An expert with a wealth of knowledge on snowshoes, Mcdonald told participants about the many different types of snowshoes, how they're made, why they were so crucial to native tribes and even provided a number of stories of his own experience.
Mcdonald believes that the snowshoe has stuck around both for it's utility and its ability to provide unique experiences for those looking for winter recreation.
"It allows you to access areas that you couldn't otherwise," said Mcdonald. "They are ideally adapted to North American forests. We have a lot of fallen timber, and skis, without a highly prepared trail, aren't as good for travelling in these types of conditions. Snowshoes can handle virgin snow with no previous packing."
For more information, or to book attendance in a future snow show adventure call 705-766-9968. Or, visit the website at
www.skithefrost.ca
.
The last snowshoe adventure is scheduled for Feb. 22.