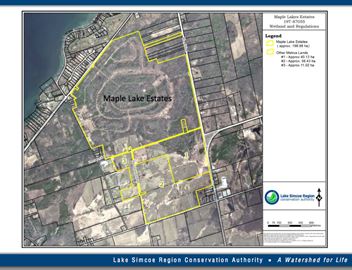 Subject lands
Submitted image/Lake Simcoe Region Conservation Authority
A map outlines the proposed site of the Maple Lake Estates subdivision and other Metrus-owned lands in the North Gwillimbury Forest.
Georgina Advocate
A large-scale subdivision on provincially protected wetlands in Georgina may slip through a conservation "loophole", according to the environmental group trying to close both the hole and stop development in the North Gwillimbury Forest.
And that hole got a little wider after a major developer applied for a section 28 permit from the Lake Simcoe Region Conservation Authority last week, despite earlier assurances it wouldn't before the end of the month. A section 28 permit is required by Metrus to proceed with construction because the regulation governs permission to straighten, change, divert or interfere with the existing channel of a river, creek, stream or watercourse or change or interfere with a wetland under the province's conservation act.
A clause within the section states "will grant approval for development on lots within registered plans of subdivision" (which the property in question has) notwithstanding wetland designation.
A major concern underlying the turf war between Metrus Developments Inc. and the North Gwillimbury Forest Alliance over development in the environmentally protected land north of Deer Park Road in Keswick has been the possibility of a caveat to current LSRCA guidelines allowing approval for development on lots within registered plans of subdivision.
That allows housing developments with grandfathered planning approvals to be placed in areas provincially designated as significant wetlands, according to the Alliance.
And that applies to Metrus' Maples Lakes Estate subdivision slated for a 494-acre parcel of land in the north end of Keswick, which has planning approvals dating back three decades on the subsequently deemed provincially significant wetland — a designation intended to protect it from development.
When Metrus bought the land from a bankrupt and now-defunct Bertan Investments nearly 30 years ago, it did so with the understanding that it was zoned for an approved development that includes 1,073 self-contained, pre-built units, as well as parks and other recreational complexes.
It has also paid more than $1.4 million into installing water and sanitary systems, for a combined $3.5 million being paid by the former and current owners to service the land.
But for many residents in addition to the NGFA, a lot — including environmental protections — has changed since a 1987 Ontario Municipal Board ruling in favour of the development backed by a 1988 Order in Council and a development deal inked in 1992.
And last week, despite the fact Metrus — rebranded as the DG Group April 14 — made both verbal and written commitments to the LSRCA to not submit an application to develop, undertake or proceed with the approved plan of subdivision until April 30 to allow the LSRCA to conclude a review and update of its policies, the development giant with one of the widest portfolio of properties in the GTA and around Southern Ontario did just that.
It filed a section 28 permit application with the LSRCA Thursday.
NGFA chairperson Jack Gibbons called the move "indefensible", said the application is a "violation" of the development company's signed undertaking with the LSRCA and its approval would be both poor planning and not in the public interest.
"Allowing such an application would be a black eye for our region by allowing an inappropriate development to be slipped through under outdated and illegal rules," Gibbons said.
Despite the fact that both York Region's official plan and provincial policy make it clear that wetlands and significant woodlands within this forest are off limits for development, Metrus has been trying to transform a 30-year-old approval for a mobile home park on leased lots into a brand new approval for a private lot subdivision that would sit in the provincially significant Paradise Beach-Island Grove wetland, Gibbons added.
"That is a risk we cannot afford to take," he said, adding the forest is 3-1/2 times the size of Vancouver's Stanley Park and its preservation is essential for the social, ecological and economic health of the Town of Georgina and Lake Simcoe.