Park opens for the season mid-May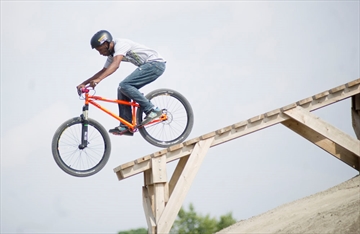 Sunnyside Bike Park
Staff file photo/NICK PERRY
Glen Young rides at Sunnyside Bike Park during a grand opening celebration for the park in September 2014. Phase two of the park is currently underway and is expected to open in mid-May.
Bloor West Villager
Construction on phase two of the first-ever destination bike park in Toronto is currently underway, according to the city's Natural Environment Trails Program.
The second phase of the Sunnyside Bike Park will include such amenities as picnic tables, a "kiss-and ride" drop-off loop, bike racks, water bottle filling stations, tree planting and a loop trail around the perimeter of the riding features.
"There have been some construction delays due to bad weather, but this phase is expected to be completed in June," the trails program said in a statement.
The park, situated at Lakeshore Boulevard and Ellis Avenue, is set to officially open by mid-May following the completion of the loop trail and some spring maintenance on the riding features.
The Natural Environment Trails Program is planning on organizing a volunteer team to assist with the ongoing maintenance of the riding features in the park. More details about the volunteer schedule will be announced at a later date.
Sunnyside Bike Park, which officially opened in July of last year, is the first official outdoor off-road cycling facility of its size in Toronto.
The city enlisted the talents of internationally acclaimed Jay Hoots of Hoots Inc., a world leader in the design of community-based bike skill parks and trail systems. Hoots has built more than 50 projects in large city and small town environments and boasts experience developing facilities internationally.
The 5,000 square-metre park can accommodate as many as 100 riders at one time and was built to accommodate riders of all skill levels and abilities.
– Lisa Rainford