Campaign launched on Earth Day seeks public support for UNESCO World Biosphere Reserve designation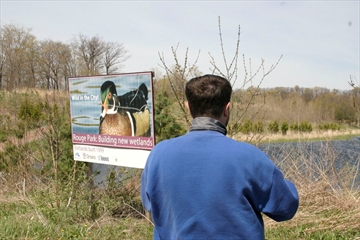 Rouge
Staff file photo/METROLAND MEDIA TORONTO
A hiker checks out the wetlands on Beare Road after hike in Rouge Park in this file photo.
Scarborough Mirror
Southern Ontario's Greenbelt is 10 years old and under review, but some supporters think it deserves to be known around the world.
They want Toronto residents to help nominate the Greenbelt – more than two million acres of farms, rural residences and conservation lands, including the Rouge Park, as a UNESCO World Biosphere Reserve.
Scarborough's Rouge Valley Foundation launched a campaign on Earth Day to get the public backing needed for a UNESCO (United Nations Educational, Scientific and Cultural Organization) designation.
Creating a biosphere reserve (the Niagara Escarpment, now part of the Greenbelt, has been one since 1990) would not be legally binding on property owners or governments, but it will attract resources to the protected area and "provide a model for stewardship, sustainable livelihoods and learning," said David Lawrie, the Foundation's program director, on Wednesday.
People can learn more about the nomination campaign at a new website,
www.orgbr.ca
Letters of support can be sent to the Foundation's headquarters opposite the Toronto Zoo on Meadowvale Road, or by email to
supportorgbr@orgbr.ca
The province is reviewing both the Greenbelt and its policy twin, Ontario's Growth Plan for the Greater Golden Horseshoe, which sought to limit "suburban sprawl" with greater density of development in existing or approved urban areas.
Suburban development, however, was able to leap over the Greenbelt in many cases. A group of politicians, called The Municipal Leaders for the Greenbelt, want it expanded over a million more acres.
On Thursday, April 30, the province is seeking Scarborough residents' opinions on the Growth Plan and the Greenbelt at Malvern Community Centre on Sewells Road. Following an open house at 6 p.m., the meeting will run from 7 to 9 p.m.
- Mike Adler