Find your favorite recreational trail
Death of Uxbridge boy sparks push for new ATV laws
Tyler Massey Law would set minimum age limit for riders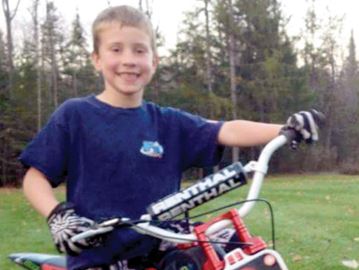 Massy Fund
Submitted photo
UXBRIDGE -- Uxbridge's Tyler Massey, 9, was killed in an ATV accident on June 14. A trust fund has been set up in his name to help the family pay for funeral costs. To donate send an e-transfer to ironarmplumbing@hotmail.com, password Tyler. June 2015
Uxbridge Times Journal
UXBRIDGE -- An online petition is calling for new legislation that would set minimum age limits for ATV riders following the death of Uxbridge's Tyler Massey last month.
Tyler, 9, was killed in an ATV accident on June 14. A website written in his voice urges people to sign a petition calling for new legislation called the Tyler Massey Law, which would bar children under 14 from riding full-size ATVs.
"I was born on May 9, 2006, I am forever nine years old," reads the introduction on the website, which goes on to say that organizers hope the new law could save the lives of other children like Tyler.