Toronto slowly improving its bicycle network
New downtown lanes a game-changer, says bicycle advocate Yvonne Bambrick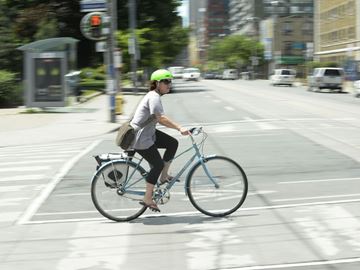 City bike plan
Staff/Metroland
York Guardian
In 1991, 15-year-old Yvonne Bambrick rode the streets of Toronto with the brash confidence – making the considerable daily commute from her family home at Victoria Park in East York to Jarvis Collegiate by bicycle, along busy downtown streets that made scant accommodation for bikes.
"Back when I was a naive teenager, I didn't think twice about it," recalls Bambrick 25 years later, sitting on a sunny patio in Kensington Market, steps from one of the city's massive on-street bike racks and just over a block from the busy College Street bike lanes.
"The concept of bike lanes wasn't on my brain at all. I did know it wasn't safe – I got doored on the Danforth and had a wipeout on bad road conditions. Otherwise I was just a teenager on her bicycle, happy to be free getting where she's going. It meant I could have all the ice cream I wanted."
In 2016, the Toronto that Bambrick bikes around is a much safer place. Toronto has a total of 558.4 kilometres of on-street bike lanes, including white bicycle lanes, contra-flow lanes that run against the flow of traffic, so-called "sharrows", signed routes without pavement markings, and even a few kilometres of cycle tracks that are fully separated from traffic.
A lot of people use those lanes. According to the 2006 Census, Torontonians bike to and from work like nobody else in the Greater Toronto and Hamilton Area, with 19,780 commuting by bike compared to 14,925 in 2001.
In 2015, Bambrick published a book for those cyclists: The Urban Cycling Survival Guide: Need To Know Skills and Strategies for Biking in the City. It was a book culled from her work advocating for cyclists as the head of the Toronto Cyclist's Union – now Cycle Toronto – and her years riding Toronto's sometimes tricky streets.
There's a lot to know: how to make a safe left turn (there's more than one way); how to suit up for cycling in bad weather; dealing with potentially hostile interactions; and how to navigate all those different styles of bike road infrastructure.
Currently, most of those routes are in neighbourhoods surrounding the downtown core – including the relatively new cycle tracks on Sherbourne, Adelaide and Richmond streets.
"Richmond-Adelaide were a game changer," says Bambrick. "I was having to ride there all the time (before), and I'm a confident rider but even for me it was tough. This is amazing. Transformative."
Bambrick and other cycling advocates are hoping for more change like that, on roads that extend beyond the downtown. This summer, the city will be embarking on a pilot project to try a cycle track along Bloor Street through the Annex neighbourhood – a test, to see whether a city-spanning track could be installed the length of Bloor Street and Danforth Avenue.
And the outcome of that could determine the implementation of parts of the city's next big plan for cycling expansion: the Cycling Network 10 Year Plan. Under that plan, Toronto's bikeway and bike trail network would be extended to the ends of the city: north along Yonge Street to Steeles Avenue; on Kingston Road in Scarborough from Eglinton Avenue to the Highland Creek Trail; Kipling Avenue from Bloor Street to the Waterfront Trail; and Midland Avenue, from Steeles to Lawrence avenues.
Toronto's Chief Planner Jennifer Keesmaat said to provide an effective cycling alternative, the network needs to expand in the same way that transit networks expand – in a continuum. Do that, she says, and it becomes viable to commute, at least to downtown, from nearly anywhere in the city.
"With cycling, distance isn't that much of a problem," says Keesmaat. "The city is really not that big, and 10 kilometres, 20 kilometres isn't really a big deal. And from the centre of the city you can get pretty much anywhere on a 10 kilometer bikeway. If you're cycling from Scarborough to Etobicoke, that's a big trip. But from the centre of the city you can get anywhere – all you need is safe infrastructure."
The other thing that a cyclist needs, of course, is the will, and a bit of know how. Bambrick is an evangelist for the former and a resource for the latter. When asked what it takes to get on a bike, after dutifully recommending a careful read of her book, she suggests a step-by-step approach. Borrow a bike-share bike; go riding with a friend on a quiet street. If it's been awhile, take a BikeShare course.
And remember: roads were originally for bikes.
"We paved our roads because wheelmen's clubs advocated to get the roads paved. The bicycling movement has been around for a long time," says Bambrick. "It's never gone away."