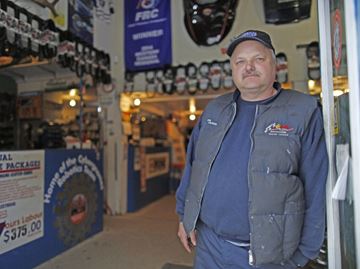 Ontario's snow businesses hit hard by December's warm weather
Marta Iwanek / Toronto Star
Trevor Bronee, general manager at J.T.'s Snowmobile Repair near Barrie, says they've sold only two snowmobiling permits since Dec. 1 — down from a typical 40.
OurWindsor.Ca
"Normally this time of year, we'd sell 40 by now," says general manager Trevor Bronee.
Last December, the company salted city streets around 15 to 20 times. This year they've only been out four or five times.
"No one's buying salt now, no one's buying shovels," he explains. "Snow plows aren't being used, and if they're not breaking, guys aren't selling parts."
There are also snow plow drivers on standby, making only 30 to 40 per cent of the income they could rake in during a snowfall, he says.
One winter business near Barrie had to close down entirely.
"We would normally have 400-plus visitors each day and didn't have any over (the holidays,)" says Jack Saffeville, president and general manager.
Saffeville is hoping for snow over the next few days because the first weekend in January typically brings in Hardwood's biggest numbers, with two $30,000 days in a row. For a $2-million business, losing those few days would mean a huge financial hit.
"I've had a few sleepless nights," says Saffeville. "But there's really not a heck of a lot we can do about it — we don't make snow."
The expense of making powder for the area's cross-country trails would be too great, he explains.
"We have a range of snow guns that can help us combat mild temperatures," she explains, adding 19 of the resort's 42 trails are open.
The biggest hit, he says, has been on cross-country skiing. Like Hardwood, they've had to shut down their trails.
And it's not just Ontario businesses that have been hit. The Associated Press reported Monday that New York state Gov. Andrew Cuomo and his entourage called off a trip to popular snowmobiling destination Ridge View Lodge because there was no snow.
But with snowfall in the forecast throughout Ontario later this week, winter businesses are hoping for a boost — and in the meantime, they're making the best of the warm weather.
"The snow plow guys are happy. They got to spend Christmas with their families," Richards says.