Public urged to support stronger Greenbelt Plan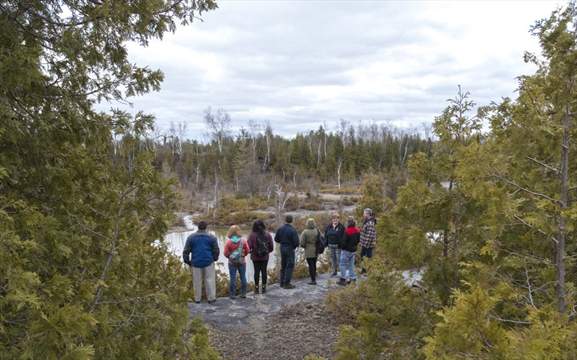 FLETCHER CREEK
Gary Yokoyama,The Hamilton Spectator
Hamilton Spectator
Environment Hamilton is urging residents to fight the threats facing the future of Ontario's Greenbelt Plan as the province undertakes its 10-year review.
The local organization, along with the Ontario Headwaters Institute and Conservation Hamilton held a public hike Saturday at the little known Fletcher Creek Ecological Preserve in Puslinch to focus on the importance of Greenbelt watersheds to our daily drinking water.
"You can't have healthy communities without healthy streams," Andrew McCammon, Ontario Headwaters executive director, said before leading the hike.
The Ontario Greenbelt Alliance says those threats include new highways that encourage urban sprawl, polluted drinking water from contaminated construction sites, and loss of natural areas and farmland that accelerate the impacts of climate change.
"If we use connected watersheds as a cornerstone to protecting our Greenbelt plan, it will help people understand the interconnectedness with land use and climate change," said Environment Hamilton co-ordinator Beatrice Ekwa Ekoko.
The Greenbelt should better protect watersheds and natural areas like this preserve, she added.
An area of 2 million acres surrounding the greater Golden Horseshoe region, the Greenbelt guards against urban sprawl by restricting development and protecting farmland, natural spaces and clean sources of the major watersheds that eventually lead to the bodies of water supplying cities and towns with their drinking water.
The province is seeking public input before completing its review.
"Environment Hamilton is really interested in addressing climate change and determining how the plan can do that better," said Ekwa Ekoko.
Hamilton is also always under threat of urban boundary expansions, so "it is important those boundaries stay firm," she said.
There is plenty of room in Hamilton to grow through intensification and renewal of existing urban areas, she added.
Environment Hamilton believes local areas covered in the Greenbelt should be expanded into urban river valleys like the Red Hill Valley and Spence Creek in Dundas, into which the headwaters at Fletcher Creek preserve flow, Ekoko said.
"With the challenges we face with climate change, this is one way to safeguard our waterways."
Environment Hamilton also wants more protection for local farmers and food growers and expanding the Greenbelt to take in more of Hamilton's prime agricultural land. The organization has been hosting workshops to raise awareness about potential threats to the Greenbelt, which includes the Niagara Escarpment Plan and the Places to Grow Plan.