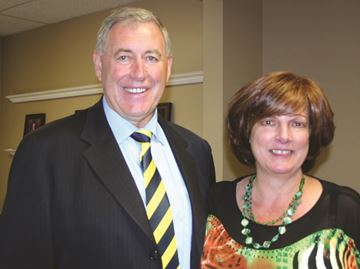 Trails Alliance funding
Brett Mann
MP Daryl Kramp and Eastern Ontario Trails Alliance Manager Cindy Cassidy pause for a photo at a recent announcement by Mr. Kramp of $610,000 in funding for the EOTA.
Central Hastings News
Tweed - On a June Friday that saw another major federal funding commitment to the Trent-Severn Waterway system, MP Daryl Kramp announced $610,000 in support of the Eastern Ontario Trails Alliance (EOTA). At an EOTA meeting in Tweed council chambers, Mr. Kramp reported that in the 2014 to 2016 time period, the federal government has committed $10 million across Canada for the National Trails Program.
"Today's announcement is actually an additional funding, locally and regionally through the Eastern Ontario Trails Alliance, through the EODP (Eastern Ontario Development Program), a combination of funding directly through the National Trails Program and our local Community Futures and I cannot say enough about our local CFDCs," said Mr. Kramp in his brief address. Of the announced $610,000 funding, $270,000 comes from the National Trails Program and $340,000 flows from the federal Eastern Ontario Development Program through the Frontenac and North Hastings Community Futures Development Corporations.
An accompanying press release notes that the funding will improve trail infrastructure, encourage job creation, link communities and increase recreational opportunities. Quoting Jo-Anne Farquhar, President of the National Trails Coalition Board, the press release states "... trail user groups can now apply for project funding to facilitate trail building, refurbishment and upgrade activities that will be beneficial to the long term sustainability of all forms of trail-based activities across Canada."
David Gerow, Chair of EOTA told the group, "Our organization is extremely happy and thrilled to be receiving this amount of funding from the federal government to match the dollars that have been raised through our local municipalities and governments ... now that we have some new regs from the MTO for ATVs, side-by-sides and so on, that they're going to be able to get on the trails, it's going to be another boost to our economics." EOTA trails range from Algonquin Park to the Bay of Quinte. The Alliance estimates the trails draw 25,000 users and bring in $6 million to the economy annually.
"You folks have been very, very aggressive in stepping up to the plate to not only ensure you get a share of that money but to use it exceptionally well. I've seen it on so many occasions," said Mr. Kramp noting that he travels the trails himself, and for years was involved with snowmobiling, cross country skiing and four wheeling. The one trail use he has not tried is horse riding. "Horses and I don't see eye-to-eye," said Kramp to chuckles from the assembled crowd.
Kramp praised "local people making local decisions. People that know what they're talking about." Hastings County Warden Rick Phillips commented that the county has been a great supporter of the trail system and that he sees no reason why this will not continue.