• Trail Management
•
Trailhead Events
• Membership Drive
• Donate to Trails Today • Member News • Activity Updates
Updates from Around Ontario Trails!
Nickel City's largest natural playground, Kivi Park open for fun
Snowshoeing, hiking and dog walking all available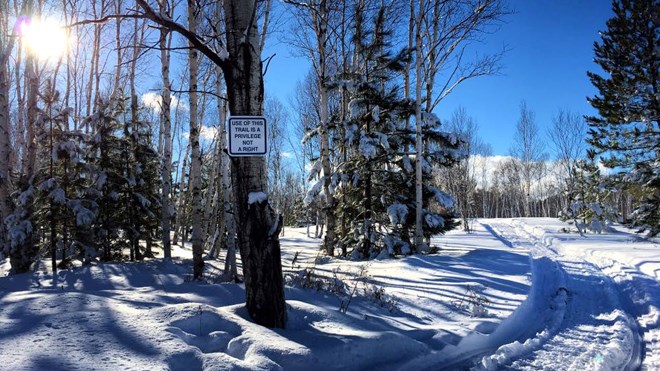 Kivi Park
is now open for snowshoeing, hiking, walking, fatbiking and dog walking.
Kivi Park is located at 4472 Long Lake Rd. It was born out of the demolition of the defunct Long Lake Public School when Sudburian Lily Fielding donated land to the city this past summer. At 300 acres, Kivi Park is the city's largest park — 23 times larger than Bell Park, in fact.
The park provides public access to Crown land leading to three lakes – Crowley Lake, Linton Lake and Camp Lake – and provides a city connection to Killarney Provincial Park.
Thanks to the work of more than 100 volunteers, as well as the talents and equipment of Pioneer Construction Ltd., the park marks a dramatic expansion to the existing sports facilities in Greater Sudbury.
---
Explore LaCloche P.P


Thanks JustaBitFurther!
Watch our Twitter for Tons of Trail Information!
---
Family Day Trail Events and More!
Wye Marsh


---
Hearst Winter Carnival from Ontario Travel


Come enjoy the winter activities that characterize Hearst: A mega outdoor boot hockey tournament, ice sculpture, dog sleigh rides, outdoor curling challenge, snowmobile and car rally tube rides pulled by horse, biathlon-running and snowshoeing, line dancing and rock band tributes!
EVENT DATES:
Feb-17-2017 to Feb-19-2017
ADMISSION:
Free
Price Details:
Prices vary according to each activity.
---
Family Day - Northumberland
Ontario Family Day is February 20, 2017 and is the 3rd Monday in February each year. Escape for the weekend to Northumberland and enjoy quality family time in the great outdoors:
Festivities and Activities
Family Day celebrations take place in
Cobourg
centering around their outdoor skating rink just a block south of King Street and right beside the Millstone Bakery where you can warm up with a hot chocolate and nibbles. The Keeler Centre in Colborne will have their annual skate on Family Day, too.
Port Hope has lined up swimming, skating, crafts and gym challenges at two of their
Parks and Recreation Centres
.
---
Get Outside and Embrace Winter in Ontario
January 19, 2017
Many Ontario Parks Offer Family Fun All Year Round
Winter has arrived, but that doesn't mean staying indoors until spring. Ontario's provincial parks continue to offer many activities this time of year, with more than 25 parks open
all winter long
. So bundle up, get outside and enjoy the crisp air and quiet forests.
Here are five ways to take part in winter fun in Ontario's provincial parks:
Learn something new
Ever heard of winter camping? Try it! Frontenac offers
winter camping workshops
to teach you all the basics - from trip planning to equipment details and safety.
Eat what you catch
Try your hand at ice fishing at Sibbald Point, Windy Lake or Silent Lake Provincial Parks. No equipment? Windy Lake has an ice fishing kit you can borrow. Just be sure you have a valid
fishing licence
and
outdoors card
, and ensure you follow
the rules
of ice fishing in Ontario's parks.
Skate through the woods
Glide through the woods at
MacGregor Point
and
Arrowhead
Provincial Parks where summer campground loops become skate trails. Visit MacGregor Point at night when the outdoor lights come on, making an evening skate truly magical.
Stay active
There are lots of ways to
stay active this winter
in Ontario's provincial parks. Grab a friend or the family and go for a hike through Presqu'ile Provincial Park. Once the snow accumulates, many parks also offer snowshoeing, cross-country skiing or tobogganing.
Book a cozy cabin
Stay warm and toasty in a cabin at Quetico or Sleeping Giant Provincial Park, or enjoy a trailside yurt at Pinery or Algonquin Provincial Park.
Reserve mid-week
for the best availability!
Remember, winter outdoor activities always depend on the weather, so check park conditions before you leave home and dress appropriately.
QUICK FACTS
More than 450 kilometers of cross-country ski trails are offered this winter in 19 Ontario Parks.
Ontario has more than 330 provincial parks, which cover more than 8 million hectares — an area larger than the entire province of New Brunswick.
In 2016, Ontario's provincial parks received more than 10 million visits from people around the world and brought in over $82 million in revenue, which supports jobs and businesses across the province.
---
MTCS Community Recreation Grant Funding
Ontario is now accepting applications for the Ontario Sport and Recreation Communities Fund (OSRCF) 2017–18.
OSRCF is a grant program that supports the government's vision to enable people in communities across Ontario to lead healthy, active lives. The fund increases opportunities for participation in sport and recreation, supports implementation of physical literacy as a foundation for lifelong physical activity and strengthens the community sport and recreation sector.
The deadline to apply for the Ontario Sport and Recreation Communities Fund 2017–18 is February 1, 2017 at 5:00 p.m. EST. Full details, including who's eligible and how to apply, are available through
Grants Ontario
, the providers in your area.
---
Federal Student Experience Grant Funding
The 2017 Canada Summer Jobs (CSJ) application period for employers is now open.
EXTENDED TO FEB 3, 2017!
Canada Summer Jobs is a Government of Canada initiative. It provides funding for not-for-profit organizations, public sector employers and small businesses with 50 or fewer full-time employees to create summer jobs for students between the ages of 15 and 30.
The application form as well as the
applicant guide
is currently available at
www.canada.ca/canada-summer-jobs
. You can submit your application online, by mail or in person at any Service Canada Centre. For a better understanding of the Canada Summer Jobs program including key tips to apply, please watch this YouTube video:
https://youtube/SfMoLhkgjU8
We encourage you to submit your 2017 application online. By doing so, you will benefit from a fast, easy-to-use, and secure way of applying as you will:
have access to the Canada Summer Jobs application 24/7, from any location, allowing you to complete it at your convenience;
ensure your application is received immediately by Service Canada;
receive an instant acknowledgement confirming that your application has been received; and,
avoid postal delays.
There are two systems available to enable you to apply online:
Grants and Contributions Online Services (GCOS): If you already have a GCOS account, please use this online platform to submit an online application; or
For more information:
Click
:
www.canada.ca/canada-summer-jobs
Call:
1-800-935-5555
(ATS:
1-800-926-9105
)
Visit:
a Service Canada Centre
CSJ presentation:
https://youtube/SfMoLhkgjU8
---
Use the OFSC Trail Guide this season!
Use the trail guide for the best accuracy in open and closed trails this season.
---
Trailhead Canada - Save the date!
---
having an event map
self directed trail or event edits
mapping and maps
guided services listings
improved weather reporting
improved trip planning with printout
adding trails for folks with pets to cater to the traveler with pets
add trekking and other unique experiences
re-brand off-road cycling as mountain biking, add fat-biking as a specialty
space for local content
improved site search functionality
more links across RTO's
improved forms with additional categories
more support route content like Wine or Arts Routes
event to trail linkages on trail content pages
cms capability to red flag broken links
more! trails!
We appreciate the feedback from all the marketing and branding staffs we have worked with and all the suggestions for improvement. Thank- you
---
Membership Renewals - Thank-you for your Support!
We wish to thank the following organizations that have already completed their membership for 2017. We couldn't do our work without your continued support. Many thanks!
Renew Today!
---
"The OTC provides us with the ability to communicate and collaborate with industry stakeholders, professionals and advocates. It also provides us with the tools to develop our own capacities, skills and networks. As well, it is important to back to the OTC and trail communities in our province.
Being an OTC member allows us to benefit from the knowledge of other members through education and professional development opportunities such as the Trailhead Ontario conference, and through professional networking. The OTC is
the
influential body that will help guide and shape the political, professional and physical landscape of trails in Ontario. Joining the OTC provides an opportunity to be part of this process: to both contribute and gain knowledge in a community of passionate, like-minded individuals and organizations."
- Damian Bradley, Cycling advocate and Developer Guelph Regional Trails Council
---
Membership Benefits
INFORMATION AND FUNDING
OTC Trails and Event page representation
Representation on OTC trails maps
Social Media represents you to 60,000+ people
Fund Development through grant writing, grant support
ACCESS AND INFLUENCE
Connectivity to the Ministry of Tourism Culture and Sport
Leadership at the Ontario Trails Coordinating Committee
Office services and networking support
BEST PRACTICES
Partnership Support and Knowledge exchange
Access to Professional Development sessions
Tourism Practices, Trails Tort Reform, Trail Workshops
TRAIL IMPROVEMENTS
Access to Trail Insurance Broker
Option on registration in Trillium Trail Network
Local, regional or provincial User conflict resolution

---
2017 MEMBERSHIP FORM -
PDF
2017 MEMBERSHIP FORM -
WORD DOC
CATEGORIES
Become a "Friend of Trails"
Savings on conference/seminar registration
Monthly e-bulletins
Access to OTC trails database
Great gift price!
Savings on trail literature/maps
$26.52 + $3.45 = $29.97
(includes 13% HST)
Benefits to Student
Editions of the OTC newsletter Trailwise
Access to OTC trails information
Conference and selected literature savings
* must provide student verification
$21.21 + $2.75 = $23.96
(includes 13% HST)
Our members include municipalities, conservation authorities, parks,
trail management groups, trail clubs, trail user groups, health units
and other trail-related supporting organizations.
Base
HST
Total
Small Non-profit,
Small Organizations
$109.27
$14.20
$123.47
Conservation Authorities,
Medium Municipalities,
Counties, Regional
Tourism Organizations
$273.18
$35.51
$308.69
Municipalities,
Provincial Level
Organizations
>5000 users
$819.54
$106.54
$926.0