• Trail Management
•
Trailhead Events
• Membership Drive
• Donate to Trails Today • Member News • Activity Updates
Updates from Around Ontario Trails!
The City of Thunder Bay is inviting all citizens to spend some time outside experiencing the best of winter at SnowDay on the Waterfront, set for Family Day, Monday, February 20, from 12:00 to 5:00 p.m.
"SnowDay has a variety of winter art and recreation activities that are free for the community to come and explore," said Ash Young, the city's cultural development and events supervisor.
"The snow sculptures are at the heart of SnowDay. This year, we're pleased to have eight teams carving all weekend. Each team brings a unique vision of this year's theme, Canada 150. Be sure to come down and vote for your favourite for the People's Choice Award."
The City of Thunder Bay is inviting all citizens to spend some time outside experiencing the best of winter at SnowDay on the Waterfront, set for Family Day, Monday, February 20. (City of Thunder Bay)
MORE>>>>>>>
Highlights of the SnowDay 2017 program include:
An all ages Rail Jam Competition organized by Loch Lomond Ski Area
Snow carving with Willow Springs Creative Centre
Winter science with Science North
Path of the Paddles Wild Winter Canoe Race
Ice Fishing with Ontario Federation of Anglers & Hunters
Snow Tennis with Thunder Bay Community Tennis Centre
Pottery and Quilting Demonstrations in the Baggage Building Arts Centre
Skating Party with LU Radio
Bannock making with the Thunder Bay Indian Friendship Centre
Eric The Juggler and Mackinley's Delusions performing throughout the park
Activities from ParticipACTION 150 Playlist
Snowboarding for the little ones at Snowboard Ontario's Riglet Park
Snowshoeing, kicksledding, and other winter sport
---
Conservation Sudbury hosts Friends and Family Ice Fishing Day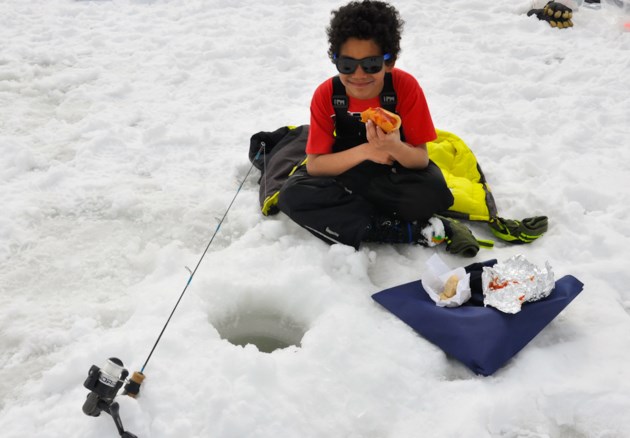 Conservation Sudbury will host their fifth annual Friends and Family Ice Fishing Day on Sunday, Feb. 19 at the Lake Laurentian Conservation Area Nature Chalet. The event runs from noon – 4 p.m. File photo
Conservation Sudbury will host its fifth annual Friends and Family Ice Fishing Day on Feb. 19 at the Lake Laurentian Conservation Area Nature Chalet (2309 South Bay Rd.).
The event runs from noon – 4 p.m. That weekend is an Ontario Family Fishing weekend, so no fishing licenses are required (more information at ontariofamilyfishing.com).
Ice fishing activities will include learning proper catch and release techniques, and making your own ice fishing rod from a stick.
MORE>>>>>>>>
---
One-tank Trips: Provincial parks slide into winter fun
Winter fun at Chicopee Tube Park in Kitchener includes tubing. (Chicopee photo)
For a cool getaway, numerous Ontario parks are open for winter activities such as cross-country skiing and snowshoeing.
At this time of year, the air is crisp and invigorating and the forest is hushed in the 19 provincial parks that offer more than 450 kilometres of trails.
Half of all trails are groomed or track set, and many include warm-up shelters and washrooms.
In all, there are 26 provincial parks open during the winter with services and facilities ranging from day-use to front and back country camping and roofed accommodation.
Some of the parks also offer equipment rentals and skating.
MORE>>>>>>>>>
---
London events: What's happening in and around the city
Free Press staff
Thursday, February 9, 2017 9:03:59 EST AM
NATURE IN THE CITY: Save a Little Love for Wetlands!, learn about marshes, bogs and swamps with Prof. Chris Smart of Western University, Tuesday, 7 p.m. at Wolf Performance Hall, Central Library, 251 Dundas St.; families welcome with children ages 10 and up; visit
naturelondon.com
.
---
OPP patrol snowmobile trails
Ontario police are asking snowmobile drivers to take extra precautions when driving. (Toby Talbot/Associated Press)
Snowmobilers in the province are being asked to "stop taking unnecessary risks while driving" as the higher-than-usual number of snowmobile-related deaths continues to rise this winter.
There have been 13 fatalities this winter, which OPP investigators are linking to riding on unsafe ice, speeding, loss of control, intoxication and driver inattention — all "causal factors" in preventable deaths, according to a news release.
Just last week,
11-year-old Burlington resident Amanda Huxley died
after the snowmobile she was driving collided with a transport truck as she was crossing a highway.
MORE>>>>>>>>>
---
Pre-budget Consultation Extended to February 15th!
En Français
If you have not yet sent in your submission for the 2017 Pre-Budget Consultations, it's not too late!
The date has now been extended to
February 15, 2017
, we look forward to hearing from you.
Written submissions can be sent to:
The Honourable Charles Sousa
Minister of Finance
c/o Budget Secretariat
Frost Building North, 3rd floor
95 Grosvenor Street
Toronto ON M7A 1Z1
Email:
submissions@ontario.ca
Fax:
416-325-0969
If you have any questions, please call toll-free:
1-866-989-9002
.
---
Put Your Trails on the ParticipACTION 150 Playlist
Don't miss out on an Event Celebration Kit and granting opportunities!
Registration is now open for ParticipACTION 150 Play List events and programs like try-it days, skills and drills programs or community festivals. Register an opportunity for members of your community to check sports and physical activities off their 150 Play Lists to:
Receive a 150 Play List Event Celebration Kit containing signage, prizes and more (while supplies last)
See your event or program, if open to the pubic, showcased HERE for Canadians to see and join in on the fun
Be eligible for a micro-grant (grant application and guidelines can be found HERE)
---
Ontario Trails E.D. and OTC Board Member Paul Ronan Presenting at CPRA Conference


2017 Canadian Parks Conference:
Parks, Protected Areas, Open Spaces and Public Places
March 8-11, 2017 The Banff Centre Banff, Alberta
The Conference Brochure has just been released!
Click here
to see details on our engaging keynotes, educational break-out sessions and exciting social events!
ARPA is excited to announce that we will be hosting a national parks conference in 2017! This networking, professional development and social event will inspire and challenge contemporary thinking about parks, protected areas, open spaces and public places. The conference will include six keynote speakers, over 45 breakout session, and pre-conference workshops and tours.
The 2017 Canadian Parks Conference will build off of the momentum and outcomes of the 2016 Canadian Parks Summit, and include speakers and topics of interest on themes, opportunities and issues discussed at the Summit.
Join us in our country's first-ever national park to celebrate Canada's 150th birthday and renew a vision for Canada's parks!
---
Ontario Trails E.D. Presenting at PRO Conference
PRO Educational Forum and Trade Show
March 28 - 31, 2017
SPONSORSHIP, ADVERTISING & EXHIBITOR OPPORTUNITIES
Parks and Recreation Ontario is delighted to invite sponsors, advertisers and trade show exhibitors to the PRO Educational Forum and Trade Show at Deerhurst Conference Centre from March 28 - 31, 2017. Come to introduce your product/service, increase visibility for your brand, and engage with more than 600 parks and recreation professionals from across Ontario and beyond.
Please complete our Value of Trails 2017 Survey by March 1 - your input will shape our CPRA and PRO Presentations
---
Trailhead Canada - Save the date!
---
Membership Renewals - Thank-you for your Support!
We wish to thank the following organizations that have already completed their membership for 2017. We couldn't do our work without your continued support. Many thanks!
Renew Today!



Township of Uxbridge
We're the Trail Capital of Canada
Uxbridge has been officially designated as
The Trail Capital of Canada
, in recognition of the extensive and growing network of trails throughout the township.
Nine Town Trails
in and around the town of Uxbridge link into a growing network of Countryside Trails linking the smaller communities, and tying into two major trails that intersect in the township – the
Trans-Canada Trail
and the
Oak Ridges Trail
. There are also extensive trails through public lands managed by Durham Region and the two Conservation Authorities.
There are trails for all abilities, ages and interests – walkers, serious hikers, cyclists, equestrians, the physically challenged, runners, skiers and limited trails for snowmobilers. The trails take you through a wide variety of natural habitats – rolling meadows, wetlands, dense woodlands and ponds, as well as some housing developments and historic streets.
Town of Minto
The Harriston Greenway Trail offers outdoor enthusiasts an opportunity to enjoy Minto's natural scenery. The Trail links six community parks, former CN and CP rail lines, cemetery and bush properties all along the Maitland River. Visit the rustic gazebo in the IODE Park on John St., a unique gathering spot at the head of the West End Trails. Enjoy a picnic, a stroll along the river, or a shady walk through the bush.
MORE>>>>>>>>>>>
---
"The OTC provides us with the ability to communicate and collaborate with industry stakeholders, professionals and advocates. It also provides us with the tools to develop our own capacities, skills and networks. As well, it is important to back to the OTC and trail communities in our province.
Being an OTC member allows us to benefit from the knowledge of other members through education and professional development opportunities such as the Trailhead Ontario conference, and through professional networking. The OTC is
the
influential body that will help guide and shape the political, professional and physical landscape of trails in Ontario. Joining the OTC provides an opportunity to be part of this process: to both contribute and gain knowledge in a community of passionate, like-minded individuals and organizations."
- Damian Bradley, Cycling advocate and Developer Guelph Regional Trails Council
---
Membership Benefits
INFORMATION AND FUNDING
OTC Trails and Event page representation
Representation on OTC trails maps
Social Media represents you to 60,000+ people
Fund Development through grant writing, grant support
ACCESS AND INFLUENCE
Connectivity to the Ministry of Tourism Culture and Sport
Leadership at the Ontario Trails Coordinating Committee
Office services and networking support
BEST PRACTICES
Partnership Support and Knowledge exchange
Access to Professional Development sessions
Tourism Practices, Trails Tort Reform, Trail Workshops
TRAIL IMPROVEMENTS
Access to Trail Insurance Broker
Option on registration in Trillium Trail Network
Local, regional or provincial User conflict resolution

---
2017 MEMBERSHIP FORM -
PDF
2017 MEMBERSHIP FORM -
WORD DOC
CATEGORIES
Become a "Friend of Trails"
Savings on conference/seminar registration
Monthly e-bulletins
Access to OTC trails database
Great gift price!
Savings on trail literature/maps
$26.52 + $3.45 = $29.97
(includes 13% HST)
Benefits to Student
Editions of the OTC newsletter Trailwise
Access to OTC trails information
Conference and selected literature savings
* must provide student verification
$21.21 + $2.75 = $23.96
(includes 13% HST)
Our members include municipalities, conservation authorities, parks,
trail management groups, trail clubs, trail user groups, health units
and other trail-related supporting organizations.
Base
HST
Total
Small Non-profit,
Small Organizations
$109.27
$14.20
$123.47
Conservation Authorities,
Medium Municipalities,
Counties, Regional
Tourism Organizations
$273.18
$35.51
$308.69
Municipalities,
Provincial Level
Organizations
>5000 users
$819.54
$106.54
$926.0