Snowshoers take The Blue Mountains trails at Scenic Caves Romp to Stomp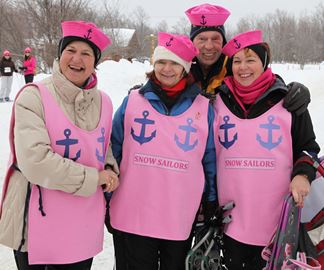 Romp
Scott Woodhouse
Collingwood
Connection
They came from far and wide, with crazy names and even crazier costumes, with one goal in mind: to stomp out
breast cancer
.
Whether they came from
Oakville
, Collingwood,
Toronto
or
Dundalk
, the close to 600 participants in the 8th annual Tubbs Romp to Stomp Out Breast Cancer were united in showing support for friends and relatives who have battled the disease, by strapping on a pair of snowshoes and trekking through the beautiful trails at Scenic Cave just outside of Collingwood.
The Snow Sailors hail from Etobicoke and admitted they are more at home on the high seas than plowing through snow drifts, but they are all committed to the cause.
"I'm passionate about the cause," said Karen Montazeri. "A lot of my friends and relatives have been affected by breast cancer."
Fellow team member Debbie Jeffcoat noted they not only ask for cash donations but donations of snowshoes as well.
Their crew met at the Etobicoke Yacht Club and the Mimico Cruising Club. This is their second year participating and they are the fourth highest pledge earners. "Last year we raised $1,790 - this year we're close to $2,500 so that's great," said Jeffcoat.
Erika Boone of Toronto was part of Kae's Racketeers, a team named for her good friend and breast cancer survivor, Kae Edwards.
"She's my age, she's a mom and a breast cancer survivor," noted Boone, who has been taking part in the snowshoe fundraiser for three years.
"Kae had literally just finished her radiation treatment the week before our first event three years ago, and we've been going strong ever since."
Helping their kids get their snowshoes on, Kae's husband Perry sported a wig that Kae wore during her treatment along with a leopard print bra.
"We fought it and we beat it and I got this free wig," he joked as he helped their kids, Christopher, Amy and Paige, get their snowshoes on.
From closer to home, the Grey County Boob Brigade has been taking part in the event for four years.
Organized by Teddi Jones and her daughter Denise, the team was thinking a lot about team member Vanessa Pink's mother as they headed out on the trail.
Pink explained her mom was diagnosed with breast cancer 17 years ago. After years in remission the cancer came back three years ago.
"She has stage 4 metastatic breast cancer - which means she will always have it. Right now she's being treated with radiation and hormones."
Team Captain Teddi Jones said they've all been touched by one type of cancer or another.
"I'm involved because if we find a cure for one cancer I think we'll be able to cure them all," she said.
One of the most successful fundraising groups ended up taking part because one of their members won a pair of snowshoes in a raffle last year.
The Toronto Master Gardeners hold an annual Technical Update meeting and Tubbs, who sponsors the Romp to Stomp, donated a pair of snowshoes to be raffled off at the meeting. By the time the meeting was over, Tubbs had offered to provide the entire group with snowshoes as well as entry into the event. In return, the Master Gardeners raised close to $9,000 in 2014. This year they raised close to $7,000.
Since its inception in 2008, the Romp, which is modelled after the Race for the Cure, has raised $270,000 for the Canadian Breast Cancer Foundation. The Romp consists of a 3-km snowshoe race and a 3-km and 5-km snowshoe walk, as well as a kids race.