Ever wondered who is using your trail and when? Looking for more than just a static count of trail activity? Tell others about what type of person is using your trail, what makes your trail a popular destination...and more!
Utilizing smartphone technology trail users can now complete a short survey that:
Single counts individual users
Consolidates results for centralized reporting
Consultation on survey content.
We ask your questions - the facility manager asks what they want to know!
Allows for separate trail counting
Identifies quality of trail experiences
Provides you feedback loop
____________________________________
Year-long trail survey tracks walks in the park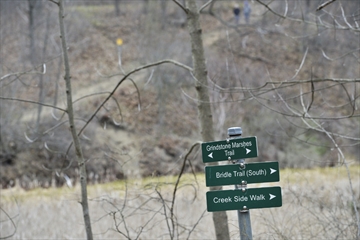 TRAILS
John Rennison,The Hamilton Spectator
Sign posts marking the Hendrie Valley Trails. Hamilton Burlington Trails Council and McMaster University are conducting a survey regarding area trails use.
Hamilton Spectator
Joggers, bikers and even parents pushing baby strollers shouldn't be surprised if someone with a clipboard asks them why they're using Hamilton nature trails.
Throughout the next year, impromptu questionnaires are one of the ways the Hamilton Burlington Trails Council (HBTC) and McMaster University are completing one of the most
extensive trail surveys
ever conducted in Ontario.
The goal is to find out if certain paths could be linked, what trails are most popular and which need attention. In Hamilton, there are more than 130 kilometres of nature trails.
"The City of Hamilton has a lot of trail head counts, but we don't know who they are. Are they on bikes? Are they walking with dogs? Do they live nearby? Do they come here often?" said Wayne Terryberry, HBTC chair and McMaster University Outdoor Recreation co-ordinator.
"What can we use to make the trail experience better? We want to get definite data in different seasons — an annual time table."
The data along with information from community partners like Hamilton Conservation Authority and the Royal Botanical Gardens will go toward building a comprehensive trail map.
"We have 13 survey locations through Hamilton and Burlington and they are going to be surveyed by volunteers, and at each survey there will be a manual head count of people passing by," survey co-ordinator Alex Farquharson said.
Matthew Brodka of McMaster University Outdoor Recreation said one of the challenges facing the study is weather.
"Especially if it's a year-long thing, but we have a passionate group of volunteers who are passionate about the trail system."
Ward 1 Coun. Aidan Johnson said the survey data can have a broader impact on people.
"The more people who use and see nature, the more people who'll want more effective environmental policies and more biodiversity protection," he said.
People interested in helping as volunteers for the project throughout the year are encouraged to
visit the Hamilton Burlington Trail
website, http://hamiltonburlingtontrails.ca/.
905-526-3434