Cycling club onside with bike skills park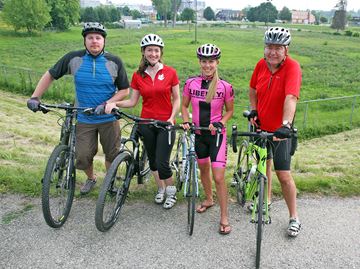 Brant Cycling Club
Photo by Brian Shypula, Brant News
Brant Cycling Club members, from left, Coun. Rick Weaver, Loren Butler, Katie MacDonald and John Harker stand in Earl Haig Park, one of the potential sites for a bike skills park in Brantford.
Brant News
The Brant Cycling Club has a lot of wheels in motion.
In a little over one year since it was formed last April, the non-profit club has grown to about 50 members, expanded its weekly road and trail rides, started a kids mountain bike camp, got involved in holding a major fundraiser for mental health and taken on advocacy for the development of a skills bike park in Brantford.
City councillor Rick Weaver, the newly minted vice president of the Brant Cycling Club (BCC), is chairing the task force looking into building a skills bike park in one of three city parks: Earl Haig, Waterworks and Rivergreen.
"Other cities that have done these have found they've become a family attraction," he said in a weekend interview.
Toronto's bike skills park, visible from the Gardiner Expressway near Sunnyside Avenue, cost $500,000 to build.
"That's kind of the Cadillac of bike parks," Weaver said.
"A scaled-down version is what we want," he added.
The specially designed park would help develop cycling skills in kids.
Weaver said features he would like to see included would be "jump lines" (a series of jumps and a "pump track" (a hilly, banked track that allows riders to maintain momentum without pedalling).
The park would also be suitable for skateboards and scooters.