Going the extra mile: Hiking in North York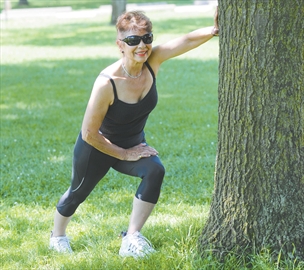 WALK
Staff photo/DAN PEARCE
North York Mirror
Take a hike.
It's what people are doing on trails all over North York.
"The idea is (to enjoy) a big piece of greenery in the centre of the city," said Jeffrey Kay, a resident of the Eglinton Avenue and Bathurst Street area who is the spokesperson for the Jewish non-profit Mosaic Outdoor Club.
"Because it's close, you don't have to go far for your recreation."
Members of his group love visiting greenspace in North York, from exploring the ravines along the Don River to walking the trails at Earl Bales Park and Edwards Gardens to snowshoeing in G. Ross Lord Park to learning about local historical sites.
While the club enjoys activities inside and outside Toronto, North York trails offer access to the great outdoors close to home, Kay said.
"Within minutes, you can be enjoying nature at its best," he said.
"We are fortunate to have deep ravines cutting through our neighbourhoods. With little effort, we can be surrounded by the sounds of birds, little mammals and rustling leaves. The noise of traffic has disappeared."
Members of the Metro Toronto Fitness Club have been meeting every Sunday morning since 1964 to run or walk the trails of North York, regardless of extreme heat alerts, raging blizzards or any weather in between,
"People are really keen and they come winter and summer. We have never failed to meet one Sunday since the club started," said board member Edie Tisch, who has served as manager, vice-president and social convenor during her 30-plus years with the club.
"Somebody is always there. It's a tradition that no Sundays are missed. We're dedicated. Not everybody comes every Sunday but there are always people who come. That's amazing."
Tisch, a North York resident for 29 years before moving to mid-town Toronto about 14 years ago, recalled one Sunday morning when a snow storm prevented her from getting her car out of the driveway.
Rather than put her feet up, she walked from her home to the club's home base, at the pavilion at Wilket Creek and Sunnybrook Park at Eglinton Avenue and Leslie Street, to join her fellow club members.
Tisch wasn't disappointed when she arrived. Another 15 or so hardy souls also showed up.
During a stroll through the park last week during an extreme heat alert, Tisch explained that the club has evolved over time from its early days as running club for people over 40 to today's group for runners, walkers and pole walkers of all ages.
Much of the club's appeal is its camaraderie and social activities, including the weekly "social mile" where members share jokes and stories, barbecues, the Egg Nog Jog holiday event and dinner/dances, including one planned for next May to mark the club's 50th anniversary.
Members love the weekly hikes, which begin at Sunnybrook Park and then follow any number of routes such as through Edwards Gardens or over to the Ontario Science Centre, said Tisch, adding the club now meets during the winter at Banbury Community Centre.
"(This is) a beautiful area, all the trees and the wonderful greenery. It's really something that you don't find everywhere," said Tisch, a long-time volunteer with a number of organizations such as the Canadian Cancer Society and the Heart and Stroke Foundation.
Lesley Blackmore is the founder and executive director of Turtlefeather True Nature, a federal not-for-profit organization that helps women who have experienced abuse heal through encounters with nature.
Through its Turtlefeather: Women in Nature program, participants "are introduced to the wonders of spending time in nature while improving their outdoor skills, increasing confidence and reducing stress," she said in an email.
"It is our hope that through nature experiences, working in conjunction with other agencies, we can help stop the abusive cycle from continuing. The natural environment is a catalyst for exploring personal fears, facing challenges, and decreasing or eliminating self-imposed limitations. Women can't help but feel good and powerful when immersed in the beauty and mystery of nature."
Among Blackmore's favourite walks are the trails at G. Ross Lord Park and the Forest Valley Outdoor Education Centre southwest of Finch Avenue and Bathurst Street.
"It's a little piece of wilderness in the city; I have seen large adult buck deer running through the fields. There are a variety of areas to explore from river front trails, wooded areas and of course open fields," she said.
"Wilderness/nature outings can refresh your spirit, allow you to reconnect with yourself, reflect on your needs, revive your power to create and enable you to relax and tune into the natural rhythm of the world around."
For information about trails, visit the Ontario Trails Council at www.ontariotrails.on.ca
_________________________________________________________________________________
NIPIGON, Ont. -- A married couple on a cross-country cycling tour is dead after they were hit by a pickup truck on a stretch of the Trans-Canada Highway in ...
MS Bike Tour Returns to Cornwall with 600+ Cyclists
Choose Cornwall
Cornwall Ontario - Over 600 cyclists will pedal their way along Cornwall's recreational path on

August 10th and 11th

as part of a regional bike tour that serves as ...
See all stories on this topic »
_________________________________________________________________________________

News Release
July 26, 2013
Ontario Government Supporting Provincial and Multi-sport Organizations
Ontario is helping to get people across the province healthy, physically active and involved in competitive sports.
This year, 19 provincial sport and multi-sport organizations will receive support through Ontario'sSport Priority Funding program. The program will help the organizations coordinate athlete and leadership development sessions, certify coaches, officials and volunteers, host athlete training camps and stage competitions.
Ontario created the Sport Priority Fund to help:


Introduce more people to sport with programs that help develop physical skills and promote active living.
Offer recreational sport opportunities that encourage people to have fun, be social and stay healthy.
Provide competitive sport opportunities to help athletes improve and measure their performance against others in competition.
Providing more opportunities for people to stay active and keep athletes on top of their game is part of the Ontario government's efforts to create healthy and prosperous communities.