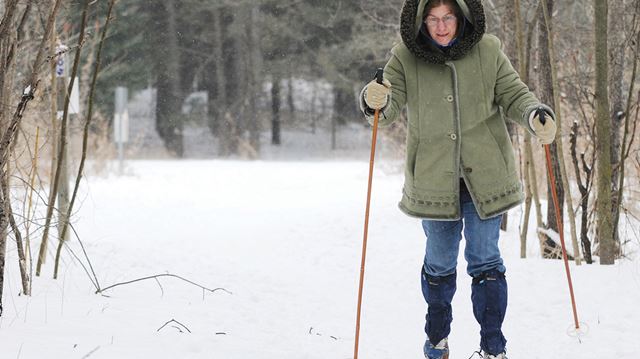 Long Sault Conservation Area
Ryan Pfeiffer / Metroland
CLARINGTON -- Sue Duncan hit the cross-country ski trails with her family at the Long Sault Conservation Area. January 19, 2014.
DurhamRegion.com
DURHAM -- Motorists may disagree, but those who enjoy strapping wood to their feet and then sliding around the countryside are waiting with bated breath for the snow to start falling.
There are plenty of places in
Durham Region
where someone can channel their inner
Scandinavian
and fill their lungs with cold air while cross country skiing. Here are five locations in the region to partake of this winter exercise.
This popular
Uxbridge
resort is a winter wonderland, offering not only cross country skiing, but downhill skiing as well. Those new to the sport can rent equipment and take lessons. The resort offers a variety of passes -- individual, family, 10-day and single day.
2. Ganaraska Forest
The Ganaraska Forest Centre has it all. There are more than 35 kilometres of groomed and track-set trails for the novice and advanced skier, and the trails will challenge all skiers. The forest isn't in Durham, but on the border with Northumberland, on Cold Springs Camp Road, north of Thertell Road.
3. Long Sault Conservation Area Port Perry 18 km 2/5
The Long Sault Conservation Area is in northern Clarington, just down the road from the Canadian Tire Motorsport Park. There are 18 kilometres of trails for beginners, intermediate and advanced skiers. It should be noted the trails are not groomed. Also, the trails are multi-use, so skiers and hikers could be on the trail at the same time. It's at 9293 Woodley Rd, off of Regional Road 20, near the Canadian Tire Motorsport Park.
4. Greenwood Conservation Area Ajax 6 km
Country right next to the city. Anyone wanting to try six kilometres of skiing won't find a better place. Ontario Trails gives a two out of five for degree of difficulty. There is no place to rent skis, so anyone wanting to go will have to bring their own.
5. Trans-Canada Trail Claremont 20 km 2/5
It's on Regional Road 5, east of the Hamlet of Claremont in north Pickering. There are 20 kilometres of trails and according to Ontario Trails, they carry a degree of difficulty of two out of five.