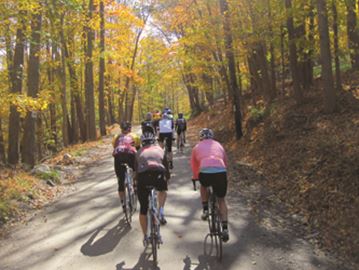 Orillia eyes cycling tourism
File photo
"Orillia has amazing trails," but needs to develop cycling tourism, Brendan Matheson, of Cycle Simcoe, told Orillia council this week.
Orillia Today
Orillia holds untapped potential as a destination for
cyclists
and a share of the substantial dollars they bring to communities, council heard this week.
"Orillia has amazing trails," said Brendan Matheson, of Cycle Simcoe. "They have an amazing network, but they have a great opportunity to develop the tourism aspect, for sure."
Cycle Simcoe is a tourism initiative that aims to steer two-wheeled enthusiasts onto area trails and into local communities.
It is a countywide strategy involving the Barrie/Simcoe Cycling Club, Tourism Simcoe County and Oro-Medonte Township, where the project was initially tested.
"The goal is to make cycling more safe, more memorable and more fun, county-wide," Matheson told Orillia council during a presentation.
The cycle-centric group recently produced a map identifying safe cycling routes in the Lake Country region, which includes Orillia.
"Then we sign those routes to make sure everybody knows where they are going," Matheson said. "The next part is to develop a safety and education campaign to make sure that everybody is riding safe out there."
Cycling tourism is a lucrative enterprise that brings in more than $390 million annually in Ontario, Matheson added.