http://www.ontariotrails.on.ca/connect/newsletter


Local cyclists and motorists encouraged to show better cooperation by sharing space on area roadways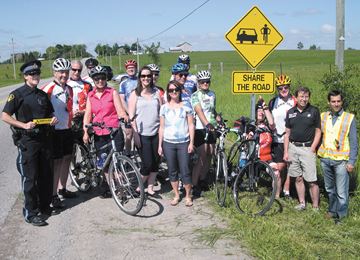 Share the Road
Special to This Week
The Kawartha Lakes OPP, Haliburton, Kawartha, Pine Ridge District Health Unit and Kawartha Cycling Club have joined forces once again to spread the Share the Road message. Signs like this one have been posted along popular cycling routes across the City of Kawartha Lakes.
Kawartha Lakes This Week
(KAWARTHA LAKES) Provincial police, health officials, and driving and cycling enthusiasts in Kawartha Lakes have once again teamed up to encourage people on bikes and in cars to share the road this summer.
To reinforce the message, more of the yellow Share the
Road signs
- purchased through an
Ontario Ministry of Transportation
grant - have been installed along area roadways that are frequently used by cyclists. The signs are one of the more visible parts of the Share the Road campaign, which reminds drivers and cyclists to share space and respect each other's place on the road.
"Cycling is becoming a more popular pastime and tourist draw in the City of Kawartha Lakes," notes Haliburton, Kawartha, Pine Ridge District Health Unit health promoter Lisa Kaldeway. "That makes it even more important to support safe cycling by ensuring all road users are aware of each other's rights and responsibilities."
Richmond Hill, Thornhill students give back to community
Richmond Hill Liberal
The
Duke of Edinburgh Award
is given to youth between the ages of 14 and 25 who demonstrate high levels of involvement in the community. Each youth must complete requirements in four categories (community service, skill development, physical recreation and adventurous journey) and then earn a bronze, silver or gold level of the award.
Stephanie Chan of Richmond Hill tutored science and math at her school and volunteered with a senior citizen home assisting the residents. Her adventurous journey consisted of a four-day canoe trip exploring Algonquin Park and she enjoys recreational activities such as skiing, skating, swimming and canoeing. After participating in the Shad Valley program and trip to France as an international student, she feels that Award has given her a wider understanding of the world around her and encouraged her to pursue interests, such as backcountry hiking.
Ricardo de Sequeira also a student from Richmond Hill who enjoys hiking. He hiked to the summit of Mt. Kilimanjaro in Tanzania and said through the experience he learned how much he enjoys his favourite physical activities: running and strength training. He also attended a forum for young Canadians interested in politics and how our government operates. In his community he has been a Special Olympics volunteer, swim instructor, lifeguard and is a tuck shop manager.
Richmond Hill's Jeffrey Lam has achieved bronze, silver and gold levels of the award. He has volunteered with Free the Children, Dragon Ball fundraising, Gala for Yee Hong Geriatric Centre, Heart and Stroke Fundraising Gala and a Scarborough Chinese Outreach committee fundraising gala. For his adventurous journey, he went dog-sledding through Algonquin Provincial Park for five days. A baritone saxophone player who also enjoys badminton, he also spent a week at the Terry Fox Memorial Centre learning about healthcare.
Justin Lam from Richmond Hill credits the award and program for opening him to activities and experiences he normally would not have tried. His adventurous journey was spent in British Columbia where he participated in a four-day hiking trip in Garibaldi Provincial Park. He enjoyed education programs on First Nations' history and culture in both British Columbia and Ontario. He enjoys photography, swimming and tennis. Lam hopes to become a lawyer and hopes to land an internship at a top law firm.
Tariq Haji is from Thornhill and has achieved the bronze, silver and gold level of the award. He volunteers with Ismaili Volunteer Corps, the Ontario Science Center and during Rogers Cup as a ball boy. For his adventurous journey he spent six days in Algonquin National Park on a canoe trip. He enjoys cooking, soccer, tennis and table tennis. He travelled to Jonquiere, Quebec where he learned about Quebec culture and brushed up on his French.
Joshua Morris is another Thornhill student who has also received all three levels of the Duke of Edinburgh Award. His community service was offered to charities such as Canadian Blood Services, Telethon for USA as well as the Terry Fox Run. He did a four-day hike in Algonquin Park for his adventurous journey and also assisted with building homes in West Virginia for Habitat for Humanity. He enjoys hockey and tennis and Morris said he has learned the importance of volunteering and helping others through the program.
Adrian Chan is from Markham and has received his bronze, silver and gold levels of the award. He has been involved in shoreline cleanups, developing habitats for salamanders and birds, as well as planting trees. He went on a hiking expedition in Wiarton, Hope Bay and Cape Croker for his adventurous journey. He is a skilled pianist and enjoys cycling and yoga. He also travelled to Costa Rica to work on various turtle conservation efforts. He will attend university in the fall and hopes to become a civil engineer.
For more on the Duke of Edinburgh program, visit www.dukeofed.org
- Lyrel Robinson