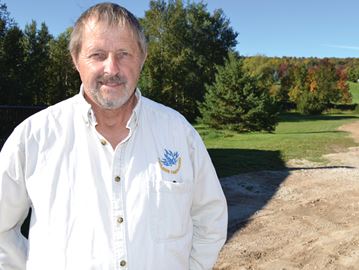 Duntroon's Sinclair helped build sport of cross-country skiing locally
Larry Sinclair at the Highlands Nordic facility built by his family. John Edwards file photo
Wasaga Sun
CLEARVIEW Twp. — Larry Sinclair's biggest goal was to get kids on cross-country skis.
The love of the sport would take it from there.
"His biggest desire was to see Ontario athletes do well internationally," said Liz Inkila, the administrator for Cross Country Ontario.
Larry was the high performance chair for CCO, directing the province's high performance program for cross-country ski athletes. However, said Inkila, Larry's impact on the sport goes back more than 30 years, as an athlete, a coach, and a builder.
The Sinclairs — both Larry, and his dad, Jim — built the sport of cross-country skiing in Collingwood, carving a facility out of the hills west of Duntroon that would become known as Highlands Nordic. Jim Sinclair was a teacher at Collingwood Collegiate Institute and started the high school team in the late 1960s, and in his youth, Larry competed at the provincial and national level for CCI.
In the 1970s and '80s, Larry transitioned from competing to coaching.
He began coaching at the University of Guelph, and in 1989, took the first Canadian team to the World University Games in Sofia, Bulgaria.
He also took several junior and provincial team trips to Europe to help young athletes gain international experience.
Just last year, Larry took a team to Norway.
"[Larry] was instrumental in getting that trip off the ground," Inkila said. "He felt it was very important that young athletes get on snow, get to Europe, and see what it's like to ski over there.
"His philosophy was to get kids skiing, inspire and challenge them, and the rest will come. They would love it, learn to love it, and they would do the rest with support."
At home, Highlands Nordic was developed into one of the best cross-country ski facilities in the country, hosting multiple Ontario Cups, provincial high school championships, and the Canadian National Championships. It recently played host to the World Junior/U23 Trials.
CCI cross-country ski coach Bill Hewitt said Larry was humble about many of his accomplishments.
"Throughout his life he supported the CCI team, and it's been through the Sinclair's family generosity and support that we've been able to have such a large and successful team," Hewitt said. "He did stuff that no one knew about, and he didn't do it for the accolades, he did it because he loved the sport and wanted other people involved."
He also founded the Highlands Trailblazers Ski Club, mentoring and coaching young — and not-so-young — cross-country ski athletes in the community. It began with a Jackrabbit program running during lunch breaks on local schoolyards, and developed into a multi-layered team with athletes competing at the regional, provincial, national, and international level.
"One of the true measures of a leader is the ability to develop passion and leadership skills in others. Larry has inspired and assisted others to develop and build these programs, which continue to swell in numbers of participants and, to Larry's delight, attract more and more local skiers," said Tanya Green, a member of the Trailblazers organization. "Larry, along with his dad, had a dream and a vision to bring the sport to as many people as possible."
Green said Larry was always ready to support the Trailblazer Race Team "as Head Coach, wax tech, house dad, equipment supplier, chauffer … I'm not sure if he made it to chef.
"If a racer was racing or training anywhere in Canada and broke or forgot equipment, it was in the courier and on site within a few days courtesy of Larry," Green said. "His sister once said that on race or special event days there was always a long line up of people waiting to talk to Larry, looking for help with equipment purchasing, adjusting, advice or to just plain talk about skiing.
"So many families in our region now have a wonderful, safe and healthy, active choice for the winter season because of Larry's vision."
Last fall, Larry was named to the Collingwood Sports Hall of Fame in the builder's category for his efforts in the cross-country skiing community, at home and across the country.
Larry Sinclair died on Sunday, Jan. 25, two weeks shy of his 59th birthday, following a lengthy battle with cancer. He is survived by his wife, Pat Elson, and daughters Kelly and Megan.
A celebration of life will be held at Highlands Nordic in the spring. The family asks that donations in Larry's memory be made to Cross Country Canada, designated for the Highlands Trailblazers Cross Country Ski Club.