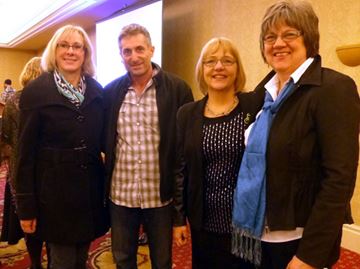 The wheels continue to turn
CARLA CARLSON PHOTO
Janet Neimer and Albino Di Santo from Beamsville, Venture Niagara's Susan Morin and Becky Glenny, manager of the Grand Oak Culinary Market, chat about how they can help each other through the Niagara Cycling Tourism venture. Neimer and Di Santo, members of the Niagara Freewheelers Bicycle Touring Club were, among others, filmed in different locations in Niagara and can be seen throughout the new Niagara Cycling Tourism video, showcasing Niagara.
Grimsby Lincoln News
The highlight of the morning meeting was the public launch of niagaracyclingtourism.com, a bilingual, cycling focused website with a video showcasing Niagara as a premier cycling tourism destination. To see the website information and video, visit www.niagaracyclingtourism.com. Businesses and organizations interested in benefitting from the growing popularity of cycling are invited to advertise on the site as it is relatively inexpensive to do so. In fact, several business owners in attendance at the information session took the opportunity to become among the first to purchase advertising on the site.
Numerous individuals, groups, organizations and municipalities across the region have worked towards establishing Niagara as a popular cycling destination for tourists, recreationists and locals. A variety of programs have been implemented in recent years to cater to this market. Two examples of such programs including Cycle and Stay Niagara and Share the Road- Bicycle Friendly Communities. Cycle and Stay Niagara is a network of bicycle friendly B&Bs along major cycling routes that are willing to transfer cyclists' luggage and purchases between accommodations while they are in Niagara. The Share the Road Bicycle Friendly Communities program is a cycling friendly designation program for municipalities. Out of 444 municipalities in Ontario, 26 are designated bicycle friendly. The Niagara region has five municipalities holding this designation. The Town of Pelham has a Silver designation and Grimsby, Thorold, Welland and St. Catharines have Bronze designations.