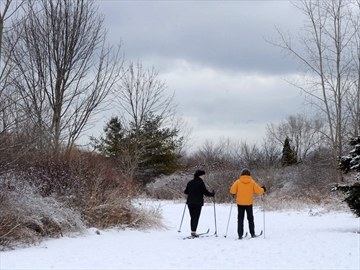 Staff file photo/ IAN KELSO
Beach Mirror
If downhill skiing isn't your thing, stay in the city and check out the following Toronto parks for a great afternoon of cross-country skiing.
Names after Robert Earl Bales, a former Reeve (Mayor) of the Township of North York, Earl Bales Park is located on land once owned and farmed by his great-grandfather John Bales. Prior to becoming a 27.5-acre park, the property was home to the York Downs Golf and Country Club. Earl Bales Park is also home to one of Toronto's two Ski and Snowboard Centres. The park's ski chalet has recently been upgraded and a new quad chairlift has been installed.
Once part of Hirons family dairy farm, Centennial Park opened in 1967 for Canada's 100th birthday. Toronto's second largest park at 525 acres, Centennial Park is also one of the city's busiest parks and a great space for cross-country skiing. Centennial Park is home to the other Ski and Snowboard centres. The ski hill now sits atop what was once a municipal dump. It was closed and covered over to provide users with an intermediate ski slope, a beginner slope and a snowboard slope.
4. COLONEL SAMUEL SMITH PARK, 3145 Lake Shore Blvd. W. at Kipling Avenue
Measuring 194.6 acres, Colonel Samuel Smith Park is a great location for winter fun. Named in honour of Lt. Colonel Samuel Smith, the park – which opened in 1996 – was once part of his property in the 1800s. Aside from being a large space for cross-country skiing, the park also offers stunning panoramic view of the city as well as a skating trail.
Occupying the majority of the deep valley of Highland Creek and bordering the neighbourhoods of West Hill and Highland Creek, Morningside Park is a well-used 416.7-acre green space that is great for cross-country skiing.
6. ROUGE PARK, located along Meadowvale Avenue, south of Steeles Avenue
Set to become Canada's first national urban park, Rouge Park is a massive, diverse green space located in the Rouge River watershed along the Toronto-Pickering border. Rouge Park, known as Canada's premier urban wilderness park, is more than 10,000 acres in size and an ideal location of winter sports of all kinds including cross-country skiing.
7. EGLINTON FLATS, 3601 Eglinton Ave W. at Jane Street
Built on the Humber River Floodplain, the land that is now home to Eglinton Flats was owned and farmed by the Scarlett family in the mid 1800's. It later became a market garden but was flooded out by Hurricane Hazel in 1954. The land then became part of a new floodplain plan and became a park. Home to several sports fields, Eglinton Flats – Mount Dennis's biggest park at 129 acres – has many wide open spaces perfect for cross-country skiing.